Article
"WeNow's Climate E-Learning Module: Something Really Clicked!"
2 August 2023 - par Valérie Mas
5 min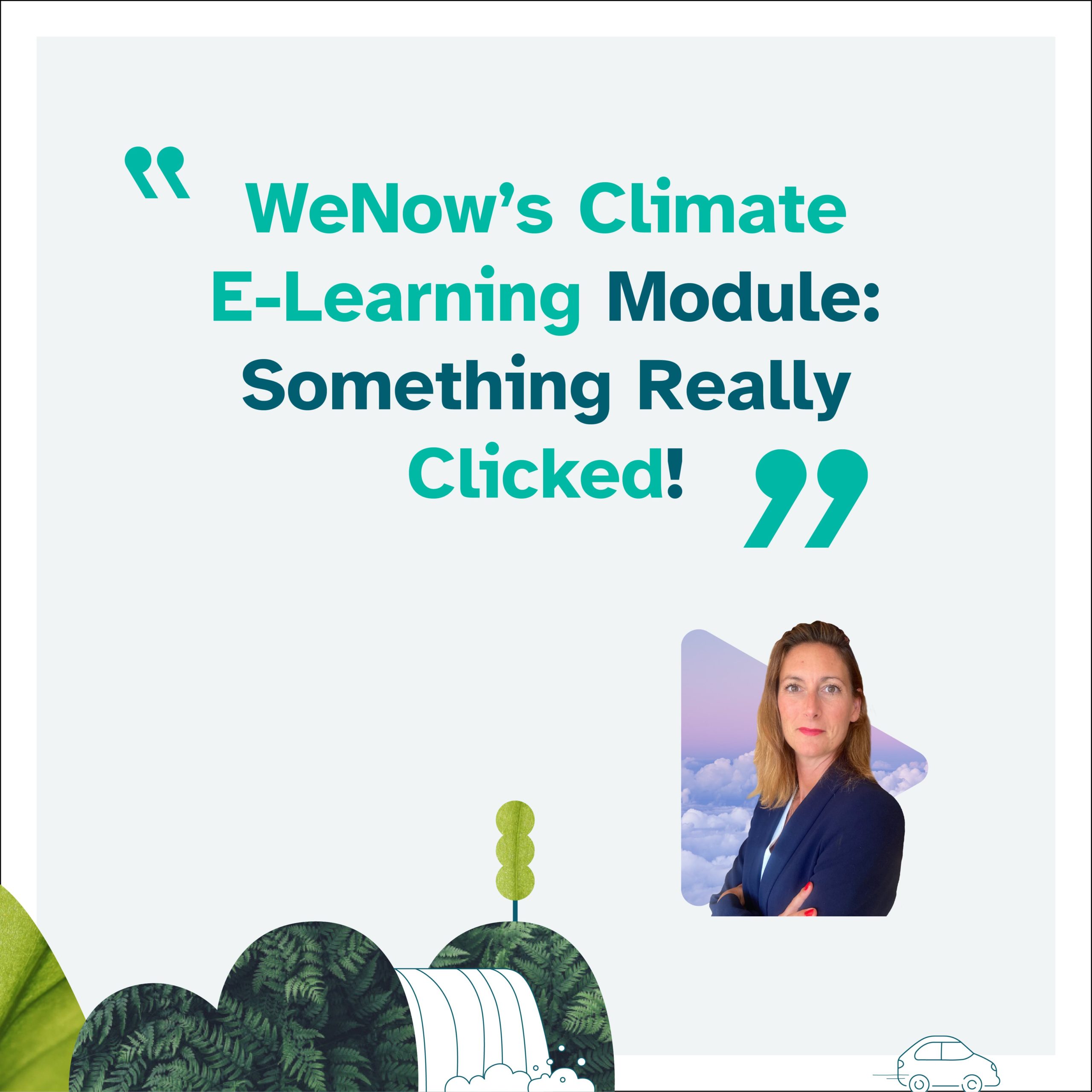 Emilie Pertuiset, General Manager France at Biocodex, took WeNow's e-learning module on climate. She tells us about her experience and what she learned.
Hi Emilie! Tell us about yourself.
Emilie Pertuiset – For the past five years I've been head of the French subsidiary of Biocodex. The name Biocodex may not mean much to you, but you're probably familiar with some of our more iconic brands, such as Ultralevure and Saforelle.
Where do things stand with CSR at Biocodex?
E. P. – Since our VP CSR, Murielle Blanc, came to Biocodex nearly two years ago, we've made significant progress. We made it a priority to assess our carbon footprint, and we're deploying global and local action plans. In the France subsidiary, we've added the notion of sustainable growth to our statement of principles, defined a formal CSR roadmap and created a volunteer CSR committee to help us adhere to that roadmap and stay aligned with our commitments.
Prior to attending the e-learning course, did you take any personal interest in these issues?
E. P. – Truthfully? Not very much. Impact never came up in my world. I pay attention to things but frankly, with hindsight, I realise how this wasn't an issue for me at all.
And then, like everyone else, I read things in the newspaper. The climate as a topic began to be more real for me. I started reading up on the subject. I did a personal carbon assessment, and I took part in a fun experience involving the Biocodex value chain that had an even more concrete impact than the Climate Fresk, so I became more aware and also began thinking in terms of my specific business.
More recently, though, I think there were two events that really made things click. The first was a convention I attended. I'm part of a group of entrepreneurs and business leaders who meet on a regular basis to hear inspirational speakers. And at that gathering, the number of speakers and workshops devoted to corporate impact was just phenomenal. That day I realised that there were 6,000 of us there, 6,000 business leaders with real power to bring change. I said to myself that I would love to see something click in each of their minds to make them acknowledge their responsibility, take initiatives without waiting until they're required to by law, and just go one step further than they have to.
I also realised that as general manager of Biocodex's biggest subsidiary, with more than 200 products sold at 10,000 retail outlets, I had an enormous weight on my shoulders. I play a major role in deciding how we distribute our products in France and which innovations we're going to introduce on the French market. I can't just wait for that to happen. I can't simply write a roadmap or create a committee and then tell myself "I've taken action".
I can't say afterwards that I was able to identify the key factor in getting it done.
So that's where things stood when I did the training.
What did you discover and learn during the training?
E. P. – I said earlier that there were two events that made things click in my mind. The first was the convention. The second was the e-learning module. It was truly revelatory. I got to know concepts that you hear about without really understanding them. Except there, it's extremely well done and I still learned things! Most of all, I think it helped certain numbers or concepts really take root in my mind, such as the idea about two tonnes of CO2 per year per person and the gigantic gap between that amount and the current averages in each country, or the orders of magnitude when it comes to beef or transport. I had heard all of that a thousand times before. But it really took root – it really hit me then.
What did you like about it?
E. P. – Right from the introduction, you really get to the heart of the issue: the way it's written makes you want to keep going. Plus, the training as a whole develops over several modules, so you have the impression you're hearing a story and you want to know how it ends.
I especially liked the tone they used and the simple, informative approach to the content, they don't cast blame at all. I'd even say it relieves you of guilt, and that helps maintain your interest. But it's very empowering as well. There are links to articles and podcasts if you want to learn more. It's really well formulated and forceful. At each stage I was asking myself how this affected me and what I could do.
And what concrete impact has it actually had?
E. P. – At the end of the training, I made three personal commitments:
I would take my car once a week instead of five times a week,
I would turn in my company car as soon as possible and switch to a bike,
I would cut back on my consumption of beef, from 5-6 times a month to twice a month, even though I love meat and beef in particular.
I went home and I told my husband and kids!
How did they react?
E. P. – I can't say they were delighted! [Laughs] But actually, a month later I realised I hadn't had any beef at all – not because I wanted to beat my target, but simply because I made different choices when I was doing my shopping.
You are planning to have all your employees take the WeNow climate e-learning module. What's your goal?
E. P. – When you start to dig into climate issues, you discover that nothing is simple. I realised that the objectives we use to determine variable compensation were difficult to align with the path we're on. Having remuneration based on profitability, growth or business objectives means you sometimes go too far with product innovation. So I tried to add impact objectives. But since they still only account for a small share of the objectives, they don't offer enough motivation.
What I want most of all is for everyone to truly understand we can't wait any longer, and that we all feel responsible and committed on a personal level. I hope this training will make something click in the minds of as many people as possible. But that greater awareness alone will only be profitable if we use it to carry out the steps in our roadmap and fulfil Biocodex's commitments.
Nos autres contenus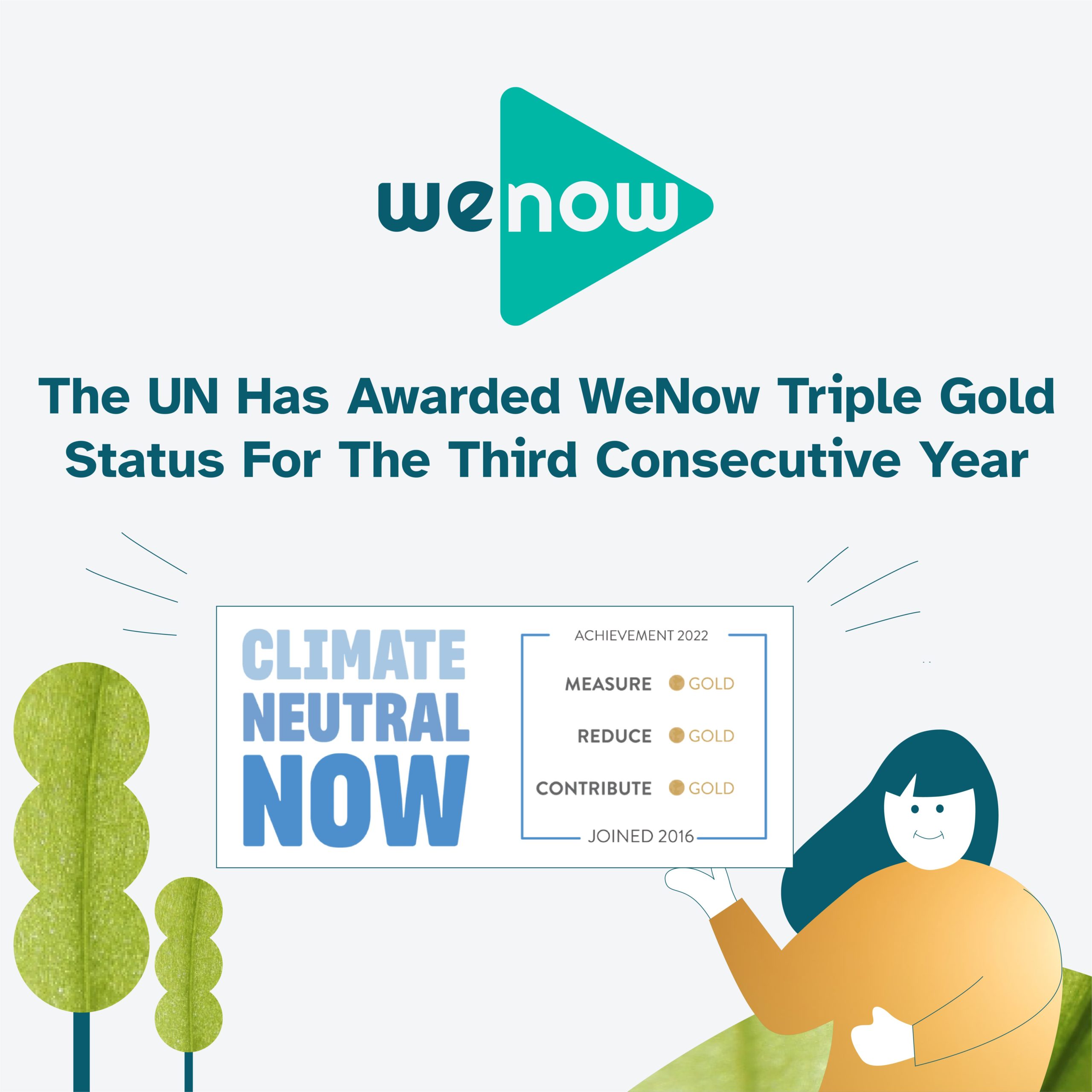 Article
"I'd like to personally congratulate you on your company's results: you've been awarded the triple gold label for the 3rd year running!"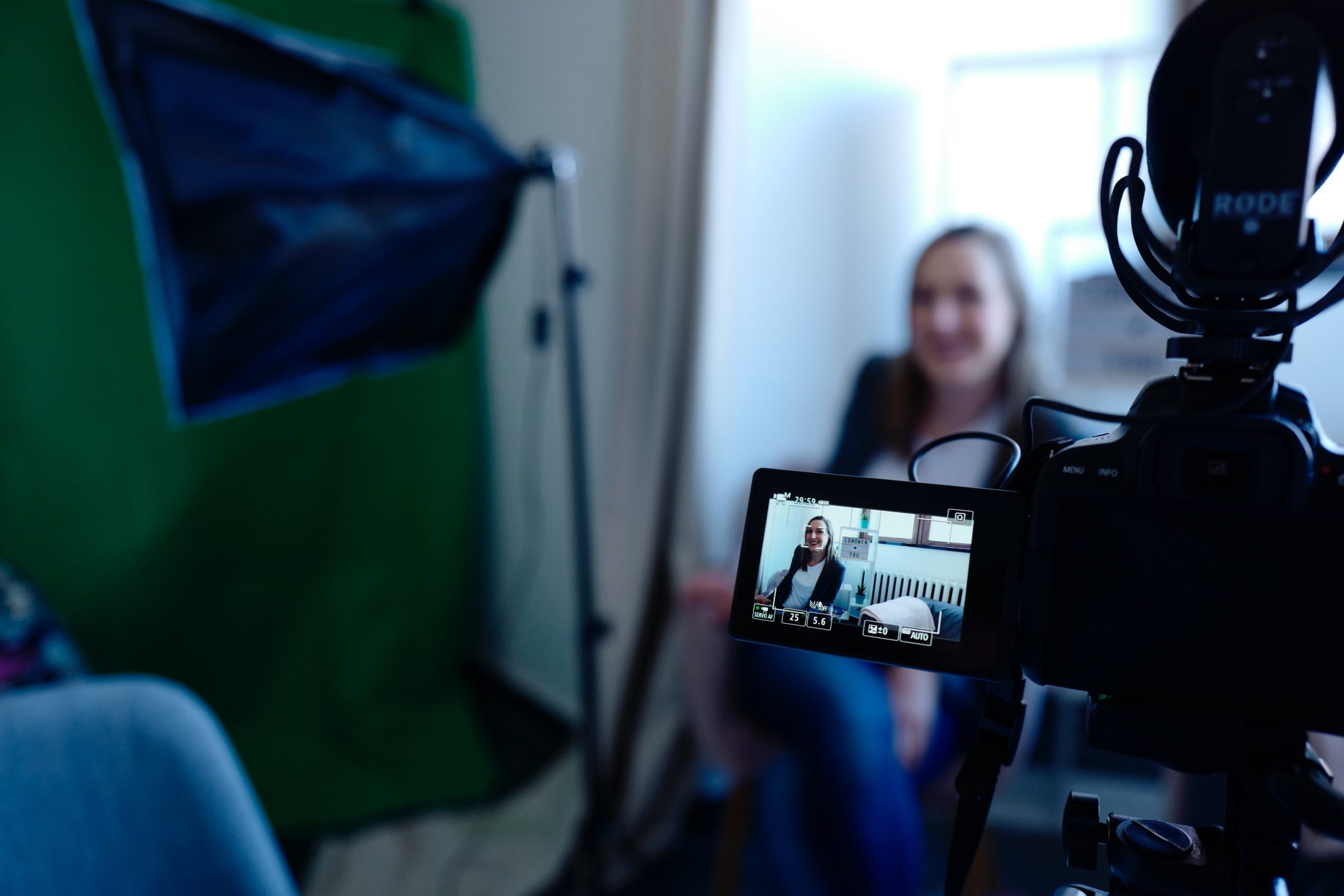 Article
At WeNow, we don't use video. Aude explains why…
Vous êtes bien inscrit à la newsletter WeNow !
Nous vous remercions de vous être inscrit(e) à notre newsletter ! Vous êtes maintenant abonné(e) à nos mises à jour régulières sur nos produits, offres spéciales et événements. Vous ne manquerez plus jamais les dernières nouvelles de Wenow. Merci de votre confiance et à bientôt !
Revenir au site